Newsletter No. 61
Discover the Earth from a cosmic perspective
Chat about this email with other readers on Discord
---
Proudly sponsored by
Get thousands of the best documentaries from just $2.99 a month. Start here!
---
DISCOVER EARTH
/ NEWS / SUBREDDIT / DISCORD / PASSAGES
Join us in playing games together in Discord's voice chat! Hop into our Games room for some mini golf, cards, word games, collaborative drawing, and more! Currently only for desktop, but mobile is coming soon.
---
DISCOVER EARTH /
NEWS
/ SUBREDDIT / DISCORD / PASSAGES
New research shows that prehistoric Megalodon sharks (the biggest sharks that ever lived) were apex predators at the highest level ever measured. 🔗 Link
It's whale season in Australia. Humpback and Southern Right whales are making their way up the coasts, making for some incredible sights of one of nature's greatest wonders. 🔗 Link
Buying food locally is even better for your carbon footprint than scientists initially thought, so don't sleep on your next local farmer's market. 🔗 Link
Antarctica's third largest Adelie penguin colony is having a population explosion. It's increased 6x and is now home to half a million penguins. The reason seems to be that it's just a great place to be a penguin. 🔗 Link
While not our usual type of news, Roe vs Wade (the historic 1973 ruling which made abortion a constitutional right) has been overturned in the US. It's now up to individual states to determine whether abortion is legal; and in 13 states it became illegal overnight. It's a huge blow to women's rights, and has come in part from Trump's appointment of 3 out of 9 Supreme Court judges. 🔗 Link
---
DISCOVER EARTH / NEWS /
SUBREDDIT
/ DISCORD / PASSAGES
🐠 Aquatic Life At 661 pounds, this giant freshwater stingray (Urogymnus polyepis) just dethroned the Mekong giant catfish to become the WORLD'S LARGEST FRESHWATER FISH!
Posted by ApocalypseThou


🦠 The Microcosmos Very cool pic of myxomycetes slime mould in a water droplet.
Posted by discover_earth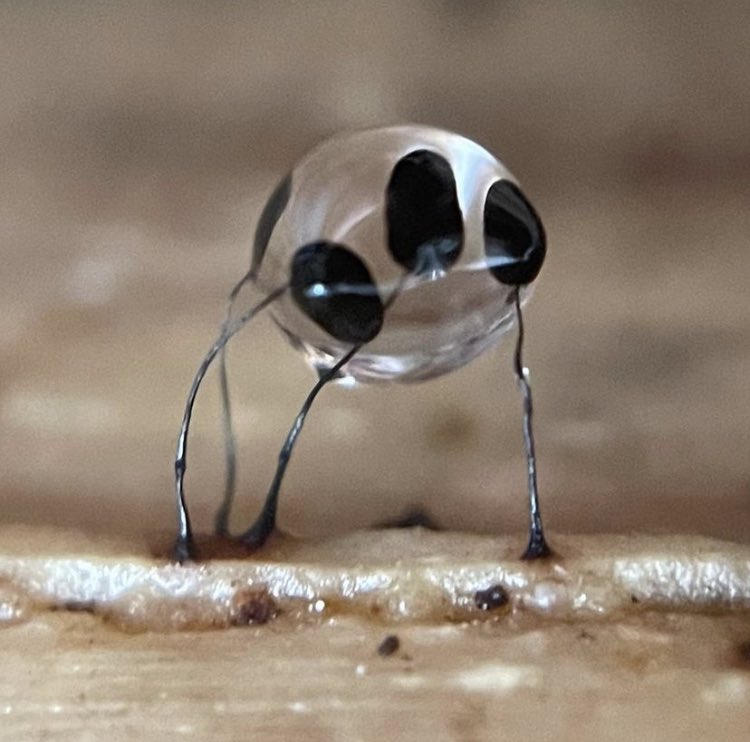 🌻 Plants An incredible shot showing the raw power of lightning striking a tree at the exact moment the picture is taken.
Posted by 5_Frog_Margin

🐠 Aquatic Life The Coronate Medusa, a bioluminescent species of jellyfish. It typically has 20 marginal tentacles and one larger hypertrophied tentacle, which is thought to facilitate prey capture.
Posted by freudian_nipps

🦁 Animals Massive silverback gorilla blocks a road so his family can cross safely.
Posted by chadthor123

🦁 Animals Feeding baby tortoises.
Posted by StcStasi

Get more content like videos, podcasts, virtual reality, and more in the Discover Earth app.
---
DISCOVER EARTH / NEWS / SUBREDDIT /
DISCORD
/ PASSAGES
Amazing how I can just snap these types of photos on my phone, and we didn't catch any trout but had lots of fun exploring
Posted by Jerseynatalie
Posted by Pizza-man777x
Posted by 𝔯𝔢𝔟9287𝔫𝔞𝔡𝔡𝔢𝔯33

Posted by Neptune7505_

Posted by 𝔯𝔢𝔟9287𝔫𝔞𝔡𝔡𝔢𝔯33

---
DISCOVER EARTH / NEWS / SUBREDDIT / DISCORD /
PASSAGES
People who aren't academics but still love learning amaze me. you mean you enjoy the pursuit of knowledge for its own sake, because you're fascinated by the world you live in? Inspiring.
@SketchesbyBoze on Twitter, Tweets From the Library Haunter 🦉🎃