Newsletter No. 44
Discover the Earth from a cosmic perspective
Chat about this email with other readers on Discord
---
DISCOVER EARTH
/ NEWS / SUBREDDIT / DISCORD / PASSAGES
New channels in our Discord!  🎤・oc-field-recordings is for nature sounds, which is a massively underrated way to immerse yourself in nature. Also 🐙・oc-underwater-photography, for all your pics of the creatures of the deep.
---
DISCOVER EARTH /
NEWS
/ SUBREDDIT / DISCORD / PASSAGES
South Australia's gorgeous Swift Parrots are in danger of extinction from the logging industry destroying their habitat… Why? To make wood chips and wooden pallets. Here's a petition to support the birds. 🔗 Link
Photographer Nicky Bay has captured the world's vainest spider, found in the rainforests of Singapore. This spider literally has a mirror on its own ass. 🔗 Link
An underreported aspect of the conflict in Ukraine is the war's environmental cost. Fighting in industrial areas risks creating extremely toxic pollution, worsening the situation for both people and nature. 🔗 Link
Conservationists are trying a new approach in helping native species survive feral cats: Tough love. By putting small numbers of cats within protected environments, prey species are learning to adapt. 🔗 Link
A single whisker from a Tasmanian devil can tell researchers what it's been eating for the past year. When dissected, the whiskers contain information like the rings of a tree trunk. Incidentally, my old roommate's beard also contained traces of everything he'd eaten in the last year. 🔗 Link
---
DISCOVER EARTH / NEWS /
SUBREDDIT
/ DISCORD / PASSAGES
🦋 Insects Never seen a Red Velvet Mite? Well now you have.
Posted by thepositivepandemic


Elm Scribblings: carved by creatures who live beneath the bark, revealed only when storm Eunice brought their world crashing down. 🌳😊
Posted by discover_earth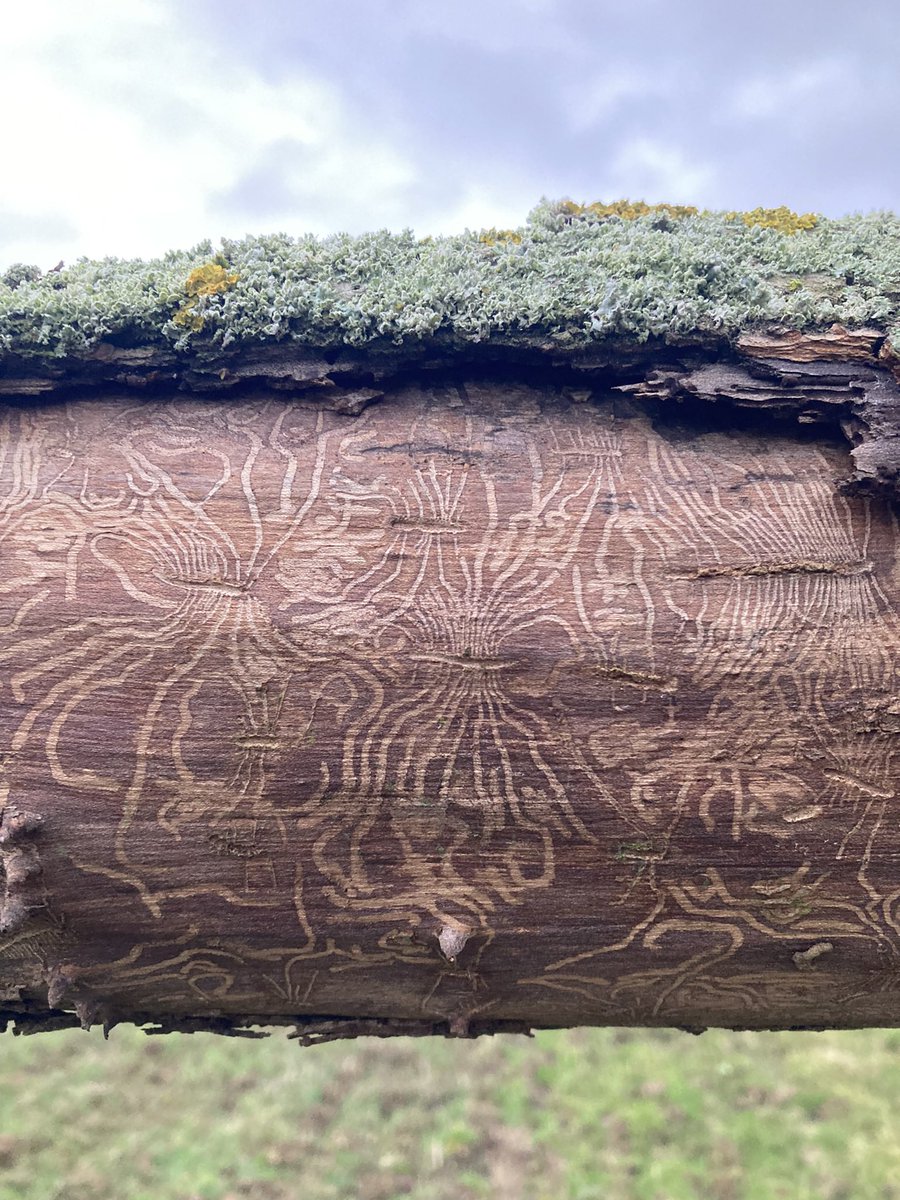 🦁 Animals A bush pig cooling off in a mud puddle
Posted by AnxiousIndicator

🦜 Birds Blue Jay feathers close up
Posted by jamesdavidsaul

🐠 Aquatic Life Gossamer worms are a genus of marine polychaete worms adapted for swimming in open water instead of burrowing. Their swimming style is pretty unique, combining both wiggling and paddling for maximum efficiency.
Posted by Dr_Mantis-Shrimp_PhD

Get more content like videos, podcasts, virtual reality, and more in the Discover Earth app.
---
DISCOVER EARTH / NEWS / SUBREDDIT /
DISCORD
/ PASSAGES
Just came across these old shots and wanted to share. Kangaroo Island
Posted by odweaven 🌱
Moss!
Posted by odweaven 🌱

M13 (a cluster of stars) from last year. 150P with Star Discovery mount
Posted by Acika

Posted by Kate.

Posted by Kate.

Plains with braided rivers
Posted by Kate.

---
DISCOVER EARTH / NEWS / SUBREDDIT / DISCORD /
PASSAGES
If the day and the night are such that you greet them with joy, and life emits a fragrance like flowers and sweet-scented herbs, is more elastic, more starry, more immortal- that is your success. All nature is your congratulation, and you have cause momentarily to bless yourself.

The greatest gains and values are farthest from being appreciated. We easily come to doubt if they exist. We soon forget them. They are the highest reality.

Perhaps the facts most astounding and most real are never communicated by man to man. The true harvest of my daily life is somewhat as intangible and indescribable as the tints of morning or evening. It is a little star-dust caught, a segment of the rainbow which I have clutched.
@Rawmilkhoneyy on Twitter, Tweets From honey